Performance: Servo Driven Fully Automatic Rotary Type Cup Filling  

& 

Sealing Machine.
Output: 30 cups per min.
Product: Powder / Granulated / Pieces / Paste / Liquid
Cups: Different shapes and sizes up to diameter of 180 mm.
Fillers: Up to 4 independent filling station.
The RS series is Fully Automatic rotary Filling and Sealing machine servo motor drive based, combined with pneumatic assemblies. The RS filling and sealing machines are suitable for packaging a wide range of liquid, paste, granulated and powdered products into pre-formed containers of various size and shapes. This packaging machine can be used for dairy products, salads, dressings, desserts, dry soups, frozen dishes, cosmetics and much more.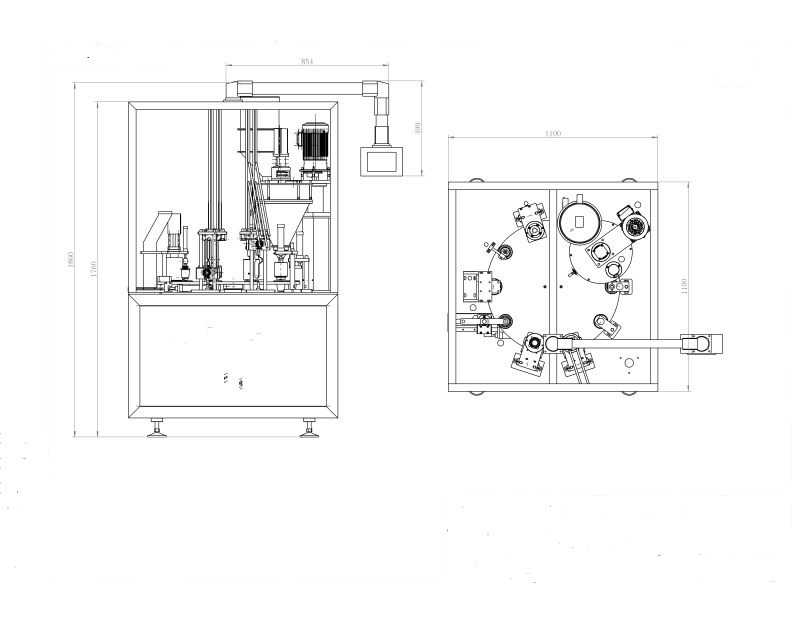 The main advantage of RS cup filling and sealing machine is its extreme flexibility.
Each cup filling and sealing machine is designed in full compliance with the product, its container and sealing style up to a diameter of 180 mm.
Depending on the output required, the cup filling and sealing machine is designed for up to four filling units which can combined different type fillers on a same machine.
The cup fillers can be fitted with a CIP cleaning system.
Pre-cut lids or membrane cut from the roll can be combined with a plastic cap.
The cup filling and sealing machine is operated by a computerized control system PLC.
The adjustment of the cup filling and sealing to different container sizes is fast and easy.
 Fillers
Pneumatic piston filler for liquid, paste and cream.
Mechanical piston filler for liquid, paste and salads.
Auger fillers for powder products
Vertical liner scale system
Multi head scale system
Garnish fillers
Additional systems for fillers
PLC control system for quantity regulation
Weight checker providing feedback to the fillers
Clean-in-place system
Cut-off nozzle
Suck back nozzle
Container closing systems
Pre-die cut lids sealing system (aluminum or other material)
Container sealing with a membrane cut from a roll
Plastic lids Pick and Place system
Plastic lids Spinning Roll system
Additional Options
Container MAP system: creation of modified residual oxygen level to 0.3-0.4%
Fast change over system to different container types and sizes
Extension of the discharging conveyer
Labeling equipment integration
Varying data coding devices
All product contact parts on our cup filling and sealing machines are stainless steel. The machine is manufactured using stainless steel, anodized aluminum and plastic, all of which conform to CE, FDA, 3A standards for food grade materials.