What is a Cup Packaging Machine?
Granular and powder products are packed by volume using a cup and jar sealing machine. The material is dispensed from the top hopper into volumetric cups on this machine. The adjusting nut adjusts the cup's volume in such a way that the volume of the material inside the cup filling machine manufacturers can be changed to get the final required weight of the material. As a volumetric cup filler, the accuracy of the net weight depends on how consistently dense the material being packed is in bulk. By rigidly building the cup filling machine's disc, it is possible to constantly maintain the cups' volume; but, if the material's bulk density varies, the net weight will likewise change.
So where would a cup filler be more appropriate?
It is best to employ a cup filler and Cup packaging machine when the weight variance is not a major problem, especially with products that are reasonably priced, as well as when fast production speeds are needed with less expensive equipment. A cup filling and sealing machine is also simple to set up, has more mechanical parts, and is simple to maintain. Our machine has two motors, one for rotating the disc and the other for pulling the laminate; this is advised for better control because both of these motors have independent drives and motion sensors, making setup simple.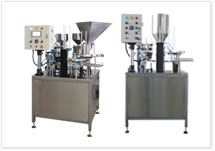 RS cup filling and sealing machine
The RS is Fully Automatic rotary Filling and Sealing Machine based on servo motor digital mechanical drive, combined with pneumatic assemblies. The RS filling and sealing machines are suitable for packaging a wide range of liquid, paste, granulated and powdered products into pre-formed containers of various size and shapes.
Read more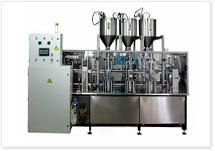 SDX-2 Cup filling sealing and cupping line machine
Servo Driven Fully Automatic Linear Filling and Sealing machine are suitable for packaging a wide range of liquid, paste, granulated and powdered products into pre-formed containers of various size and shapes. This packaging machine can be used for dairy products, salads, dressings, desserts, dry soups, frozen dishes, and much more.Read more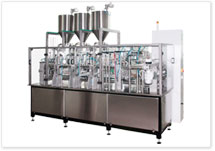 SDX-3 IN-LINE filling and sealing machine
The SDX filling and sealing machines are suitable for packaging a wide range of liquid, paste, granulated and powdered products into pre-formed containers of various size and shapes. This packaging machine can be used for dairy products, salads, dressings, desserts, dry soups, frozen dishes, cosmetics and much more.
Read more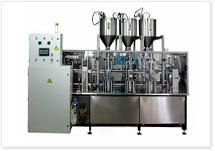 Pails Filling and Cupping Line
Read more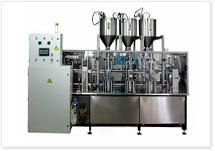 Paper Can Filling And Sealing Machine
Read more