PERFORMANCE:
Fully Automatic stationary rotary conveyor Filling and Capping machine for Filling and Capping of liquid products in a wide range of consumer request plastic or glass bottles with volume up to 1000 ml, dosing system have high accurate volumetric measuring filler.
Output: 50 bottles per min
Product: Water / Oil / Juice /Dressings /Milk / Sauces / Ketchup
The HDX series is Fully Automatic rotary conveyer Filling and Capping Machine and it is based on digital mechanical, combined with pneumatic assemblies. The line suitable for packaging any liquid products into pre-formed plastic bottles of various size and shapes. This packaging machine can be used for water, dairy products, dressings, oil, ketchup cosmetics and much more.
Features
This machine is full-automatic piston type liquid bottling machine.
All pneumatic elements "FESTO"(Germany)
PLC control system "OMRON"(Japan) user-friendly touch screen interface.
Filling bulkhead is leakage-proof, prevents from high froths.
Positive Nozzle shut off design.
Stainless steel construction AISI 304
Filling volume and speed is adjustable.
The adjustment of the machine to different container sizes is fast and easy.
No bottle no filling system.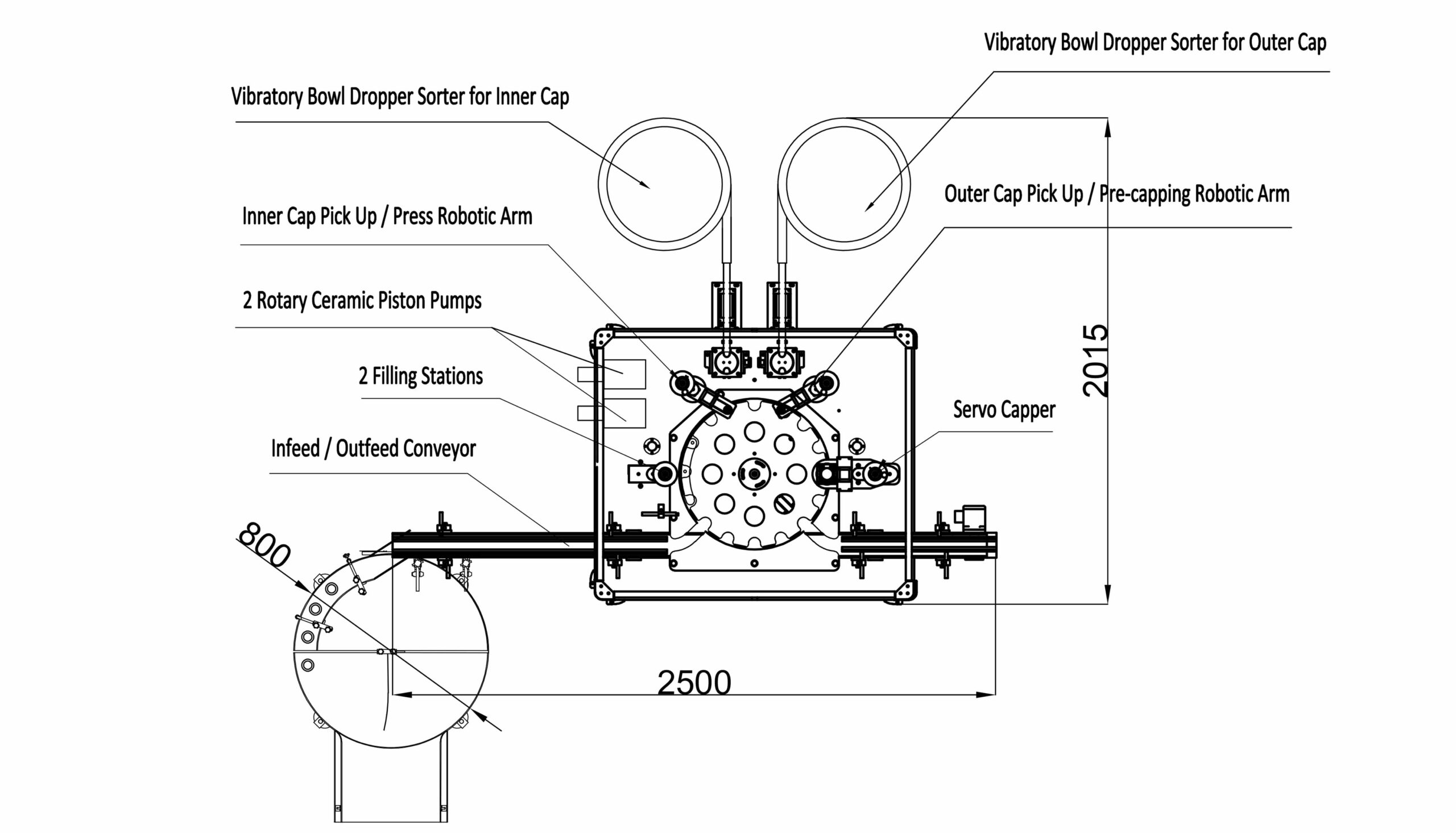 Power – 208-230 V, 50/60 Hz ,3 ph.
FLA 25 amp
Power consumption 1.2 KW
Air pressure 0.5-0.8MPa
Dosage adjustable ± 50 gr.
Filling accuracy ±2﹪
Filling station dimension (L×W×H) 1200×1200×2400mm.
Cupping station dimension (L×W×H) 1200×930×2400mm
OPTIONAL:
No. of Filling Nozzles: 2, 4, 6,8,10,12
System "Clean zone" for dairy products
Fast change over system to different bottle types and sizes
Extension of the discharging conveyer
Labeling equipment integration
Varying data coding devices