K-Cup filling and sealing equipment SDX series

SDX series is full automatic k-cup filling and sealing machine capacity 25 – 150 CPM with pre made filter inserting system. Heavy duty constructed, stainless steel surface, extremely reliable. Nitrogen flashing system provide excellent purity and 1% oxygen contents for freshness. Final k-cup fully compatible with all Keurig brewing systems.
Read more
Up Shot/Soft bottom filling and sealing machine SDS series
UP SHOT packaging line SDS series, suitable to fill and seal up to 120 capsules per minute with roll stock film sealing option. This type capsule required second packaging for freshness, flow wrap individual or group pack to prevent oxidation and increase shelf  life till 12 months.
Read more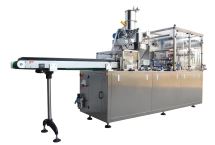 Nespresso filling and sealing machine SDR series
This section is currently being updated